Aoudad Sheep Hunts in West Texas
Our Free-Range Fair Chase Aoudad Sheep Hunts take place south west of Marfa, Texas on one of the largest ranches in West Texas that consists of more than 365,000 acres, or 570 sq. miles. The ranch headquarters are located in the shadows of Capote Peak, which rises to 6185 ft. and joins the Sierra Vieja Range, which is the Chinati and Davis Mountains. This remote wilderness has many steep walled canyons and plateaus, lined with rim rock, and thousands of isolated acres where Aoudad Sheep thrive. This is perfect Aoudad Habitat and allows rams to reach true mature age. It is possible to see more than a 100 Aoudad in a single herd with 5-7 mature rams; although a herd of 25 to 50 is more common having 1-3 mature rams per herd. The ranch is home to an incredible amount of Free Range Aoudad, Rocky Mountain Elk, Desert Mule Deer, Pronghorn Antelope, Javelina and abundant other wildlife species. This beautiful unspoiled country has changed very little since the time when the Apache and Comanche Indians ruled this part of Texas and herds of Buffalo roamed freely.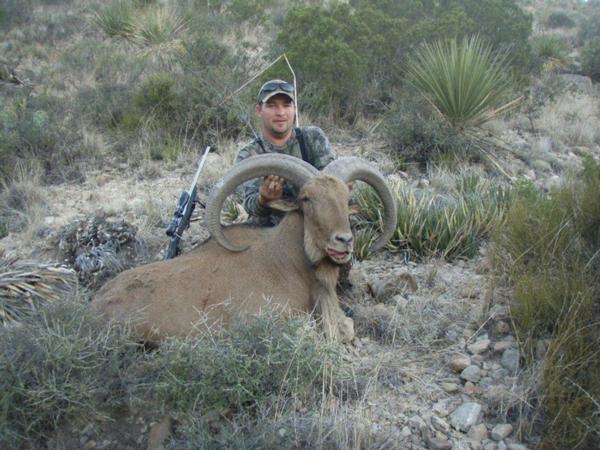 History of the Aoudad/Barbary Sheep
Also known as Barbary Sheep, are native to the Atlas Mountains of North Africa. They were first introduced into the U.S in 1948 in the Guadalupe Mountains along the New Mexico Texas Border. This arid mountain region of the U.S. is much like their native country and the first herds that where introduced did so well that subsequent herds where introduced in other desert regions of Texas. Trophy Aoudad Sheep Hunts take place in some of the roughest and driest country imaginable. Due to the environment that Aoudad Sheep live in, they can obtain all their water needs from the dry vegetation and dew. They do not depend on reliable water sources but when available they will take full advantage of water holes and often can be found wallowing in any mud they can find. Aoudad Sheep continue to thrive in Texas and now occupy most mountainous regions from West Texas to Del Rio and the Texas Panhandle.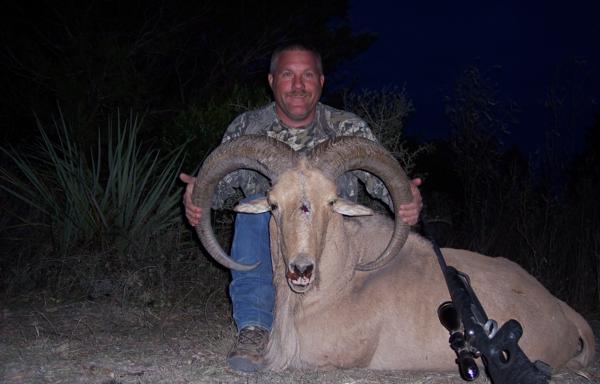 Hunting Aoudad Sheep
West Texas Free Range Aoudad Sheep Hunts are probably the best, true, wild sheep hunt for the money in the world. Be prepared — Aoudad are a truly wild sheep, making Aoudad Sheep Hunts in West Texas a challenge. We harvest large mature Trophy Aoudad with 28" horns or better with most of our rams averaging 30" to 34" with several every year that surpass that mark. We have many entries in the SCI Record Book including the #4 SCI Free Range Aoudad of all time the 38-1/2 "Aoudad Scored 164-2/8 and held the #1 position for over 10 years. The current #11 is another great Aoudad that our clients harvested that officially scored 157-3/8 another exceptional entry stretched the tape to 37-1/2 was badly broomed off and still scored 153-4/8 and is currently #25 in the SCI Free Range Aoudad. To harvest Huge Trophy Aoudad, you have to have the right genetics big properties and be very selective on the animals harvested, age class is imperative. On average we harvest 20 Mature Rams a year on over 365,000 acres. The guides and I know Aoudad Sheep and how to make your hunt a success.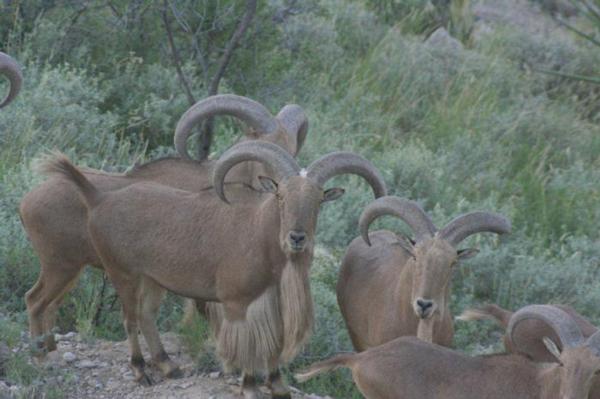 Planning Ahead Matters in Texas
Preparation on any Wild Sheep Hunt is imperative, knowing your rifle, and being prepared for real life shooting situations out to 400 yards will go a long way in helping you be successful. Being in good physical condition will also increase your success although it's not imperative on this hunt. We can hunt safari style on specially designed Mountain Buggies and there are times we can set up on water holes. Our hunting techniques vary from driving to vantage points and glassing the vast canyons to making hour long hikes to more remote areas. Good optics are imperative as you will be looking through them for most of the day. Bipods work really well in this country and prone or kneeling shots occur most often. Flat shooting, hard hitting calibers are best mature rams can weigh 275-300 lbs. To harvest Trophy Barbary Sheep, you have to have right genetics, Big Properties and be very selective on the animals harvested. Our guides and I know Aoudad Sheep and how to make your hunt a success.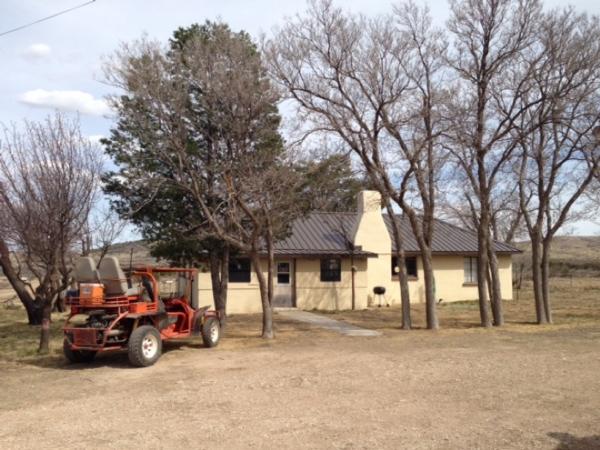 West Texas Lodging
You are in sheep country and your hunt begins every morning when you walk outside as we routinely spot Aoudad Sheep from camp. The 3-bedroom 2 bath Camp House is very comfortable with central air and heat and accommodates 6 hunters at one time. We serve breakfast and dinner at camp and lunch in the field.
Aoudad Hunting Rates and Itinerary
All of our hunts consist of four full days of hunting, you will arrive in Marfa, Texas between 1 & 2 pm the day before meet your guides and head into the ranch and unload you bags and equipment then check zero on rifles. Your hunt will begin the following morning for four full days if needed. Hunters leave the day after the last animal is harvested or the morning of the 5th day if the hunt last the full four days.
Texas Sheep Hunting Packages
4 Day Hunt: 2 on 1
2 Hunters/1 Guide
$5,000.00/ea
4 Day Hunt: 1 on 1
1 Hunter/1 Guide
$6,000
Add Non-Resident Hunting License
Type 157
$48
Additional Animals That May Be Hunted
Rocky Mountain Elk
$10,000
Mule Deer Management
$3,500
Pronghorn Antelope
$3,000
Getting Here
For those you flying arrive the day before your hunt by flying into Midland International Airport (MAF) or EL Paso International (ELP) Book the earliest flights possible. You will need to rent a car and drive the 180 miles to Marfa where we will meet you the day before your hunt.