Trophy Mule Deer Hunts in Texas
Being in the hunting business since 1983 has given us the opportunity to acquire a huge land area with of over 750,000 acres to conduct our Trophy Mule Deer Hunts. All of our properties are privately owned ranches that we have the exclusive rights to hunt. At ASGS we are always looking for the best possible hunting opportunities for our clients. This has also resulted in ASGS expanding our Mule Deer Hunts into New Mexico, Wyoming, as well as our home state of Texas.
On many of our Mule Deer Hunts there are options of hunting other animals on the same hunt depending on State Regulations and the time of year you choose to hunt. Here are a few of Combination hunts we offer: Pronghorn Antelope, Elk, and Whitetail Deer, Mexico Coues Deer and Javelina as well as several species of Turkey can be added to make some great combination hunts.
Listed below are descriptions of our most popular hunts but keep in mind we are limited in space.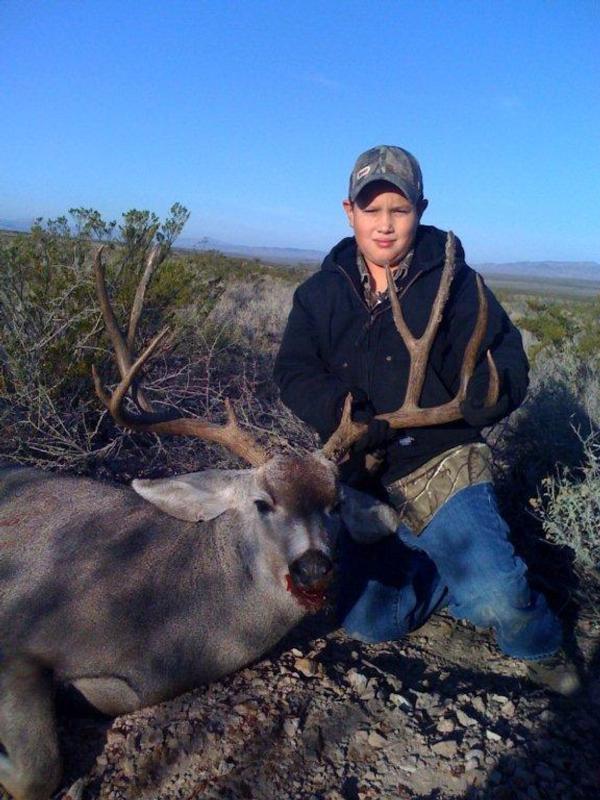 Wyoming Muley Hunting
Our Wyoming hunts are based out of Big Horn, Wyoming located near the Montana Border a few mile from Sheridan, WY. This area of Wyoming is beautiful with the Big Horn Mountains in the background and abundant rivers it is truly a unique western experience. There is ample agriculture in this area and it is not uncommon to see 100 – 200 deer and antelope in one field. The opportunity to harvest a great Mule Deer Buck will present itself on a daily basis.
We have been guiding here for the last 30 years and have acquired a relatively large hunting range with an area approaching 100,000 acres. All of the ranches are privately owned and we have the exclusive rights to hunt. We keep our operation on a personal basis. We like small groups of hunters and never have more than 8 hunters in the lodge. The lodge has all modern facilities but is still rustic with great views of the Big Horn Mountains. The dining room serves home cooked meals for breakfast and supper and a field lunch is provided during the day while hunting.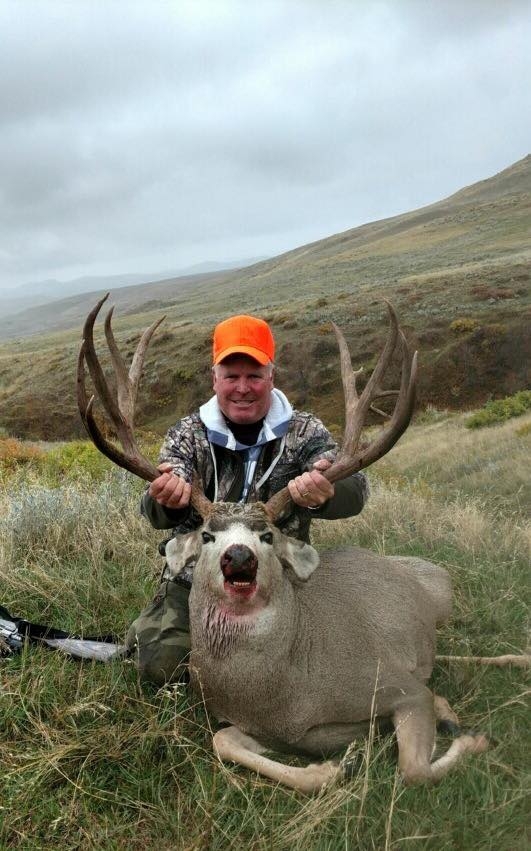 Mule Deer Hunts in Wyoming
Most of the Mule Deer Hunting is done in the foot hills of the Big Horn Mountains. The hunting is done in relatively open country where we will spend many hours glassing. Our tactic is to intercept the Mule Deer coming and going from the numerous alfalfa fields in the area. A normal morning hunt is set up and glass and watch deer head to their bedding area, it's a great plan for later stalks. Stalking bedded deer is challenging and requires ½ mile or longer stalks so being in good physical condition greatly increases your success.
Add Wyoming Whitetail Hunting
We have a unique situation in this area of Wyoming, during the month of October you can hunt either deer (Whitetail or Mule Deer) with your license. There is a high probability you can get a second deer tag by applying for it if you desire.
Add Wyoming Pronghorn Antelope
Once you have tagged your deer we will make day trips from our lodge in Big Horn to private ranches near Gillette, WY. Here you will have the opportunity to look over many herds of pronghorn until you find the animal you're looking for. Wyoming has more antelope than any other state and is well known for its huge population. Antelope Hunting can present long shots that stretch out so flat shooting rifles with good optics is pertinent. With distances being deceiving knowing how your rifle shoots and your skill level helps tremendously. We use 4 x 4 pickups to do the glassing and make long stalks to get within range.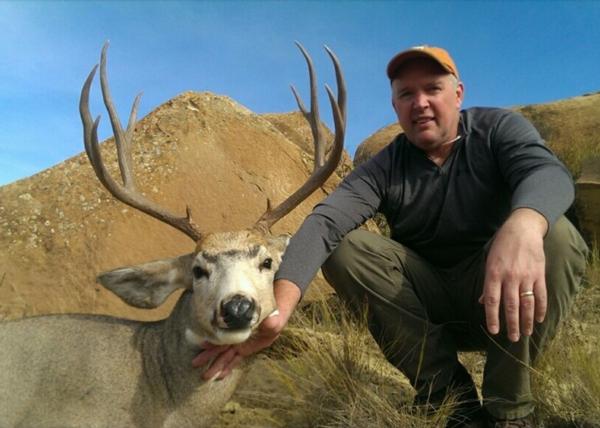 Getting To Big Horn Wyoming
There are daily flights into Sheridan, WY (SCA) which is less than 20 miles from our lodge or Billings, MT (BIL) is less than a 2 hour drive by rental car.
Drawings and Licensing
All licenses are by draw in Wyoming and you must apply for and receive a hunting license for each species you wish to hunt. Drawing success has been 100% in our area for the last 12 years. Fill out the application before the due date of March 15th. Checks with us even if you miss the March 15th deadline, usually there are left over tags until July.
Wyoming Hunts and Cost
Our most popular hunt is the Combination Mule Deer/Antelope Hunt your WY deer license is good for either species. There is a high probability you can get a second deer tag if you apply for it, which, would make this a three animal hunt. Only one Mule Deer may be harvested taken.
Combo Deer & Antelope Hunt
5 Full Days
$ None Available
Mule Deer or Whitetail Hunt
4 Full Days
$ None Available
Antelope Hunt
4 Full Days
$ None Available
Combo Deer & Antelope Hunt
5 Full Days
$3,000 (Plus Fees & License)
Add Antelope Trophy Fee
N/A
$750
Add Deer Trophy Fee
N/A
$1,500
Add Wyoming Deer License
N/A
$326
Add Wyoming Antelope License
N/A
$286
New Mexico Big Game Hunting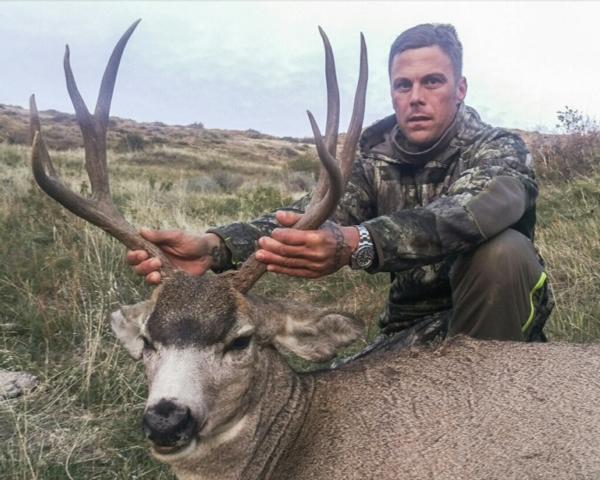 New Mexico Mule Deer Hunting
Our New Mexico hunts take place near Corona, NM located in the central part of the state. The ranch is owned and operated by NMSU Corona Range & Livestock Research Center. The property is consisting of 44 sections of land that has never been over grazed and has amble water. NMSU implemented a management program to grow Trophy Mule Deer and Antelope in 1998. Since the conception of the program the results have been impressive and some of the biggest Desert Mule Deer in the state are harvested here each year.
The ranch is a natural wintering ground for Desert Mule Deer. The deer travel over 20 miles to return to the thick Juniper Trees that cover the middle of the property and act as shelter and forage for the deer in the harsh NM winters. For this reason the colder weather we have during the hunt the better the odds of finding a big trophy Mule Deer. You will need to be in moderate shape the altitude is right at a mile high. We do a lot of glassing from 4 x 4 trucks but are prepared for 30 min to hour long stalks. We also still hunt along watering holes and game trails.
New Mexico Hunting Seasons
Muzzle Loader
October 21-25
Regular Firearm
November 4-8 & 18-22
Mule Deer Hunt
$None Available
Add Trophy Fee (Scoring over 180 B&C)
$1,000
Add License Fee
Non-Resident: $382.00 Resident: $42.00
Includes: Lodging and meals, 2 on 1 Guide Service, Skinning and Quartering and care of your trophy to a qualified taxidermist.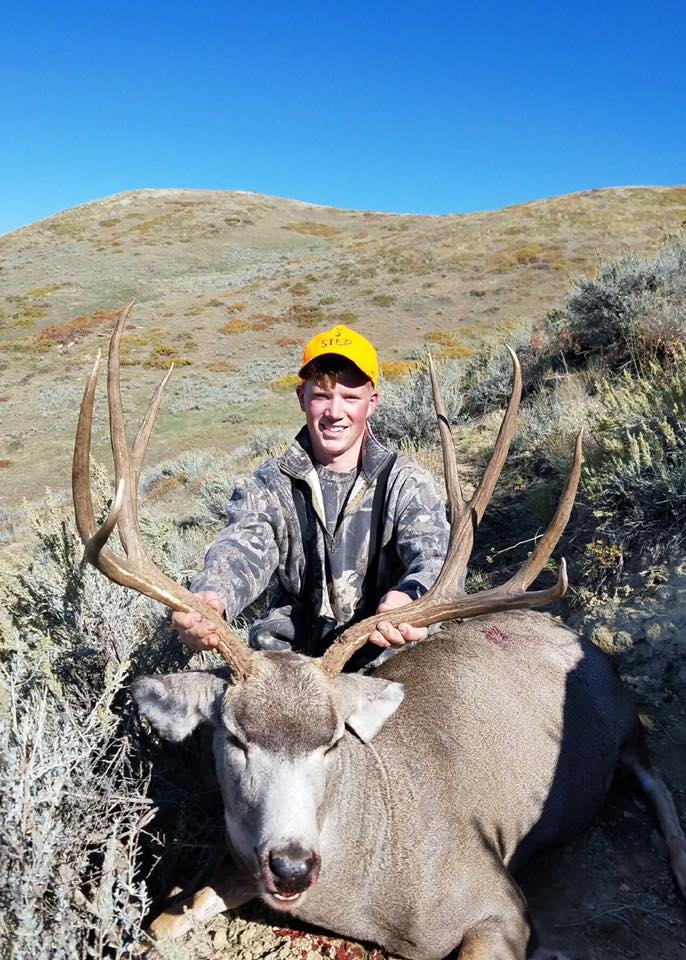 Mule Deer Hunting Trips in Texas
Based out Fort Stockton, Texas and located on a massive 325,000 acre ranch our Texas Mule Deer Hunts are truly a western hunting experience that you will never forget. This huge property, approximately 507sq. miles, has been expertly managed to produce Trophy Mule Deer with the guidance of state appointed biologist and operates under Managed Land Deer Permits issued by TPWD. This allows proper management of the deer herd with extended seasons to remove inferior genetics
This is a really unique hunt in that 95% of the hunt is done Safari Style out of specially designed Mountain Buggies that can navigate the rough terrain and cover many miles making this huge property more accessible. Being in good physical condition is always a plus but not imperative on this hunt. With the use of the buggies we can virtually eliminate walking and long stalks if needed. Our typical hunting method is to drive to vantage points and glass the vast terrain, good optics is a must.